Cohesion, creativity and communication, let's imagine together your 2.0 teambuilding
Team Building in a digital game format is the best way to federate your team around a playful, fun and atypical activity. Challenge your players and boost their social skills.
Team cohesion
Communication
Disagreement management
Negotiation
Initiative
Collective and individual decision making
Adherence to the corporate culture

Innovative team buildings with Emeraude Escape
Depending on the goal assigned to your team building, the moment during which your activity takes place, we offer you suitable and personalized formats.
Invent stories for exceptional occasional team buildings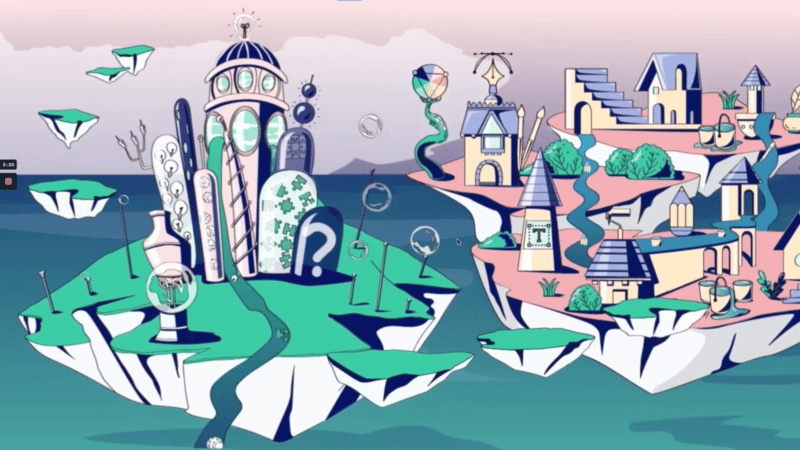 If you are looking to challenge your employees, to reveal new aspects of their personalities, to take them one step further during an annual event for instance, we have the format you need! In order to launch an in-presence or digital seminar, to warm up your employees for the brainstorming which will follow, or to relax the atmosphere during the year-end holiday season, select a long and premium format:
We give meaning to the game, in order to make your team building impactful and relevant.
Insufflate team cohesion in your employees' day-to-day life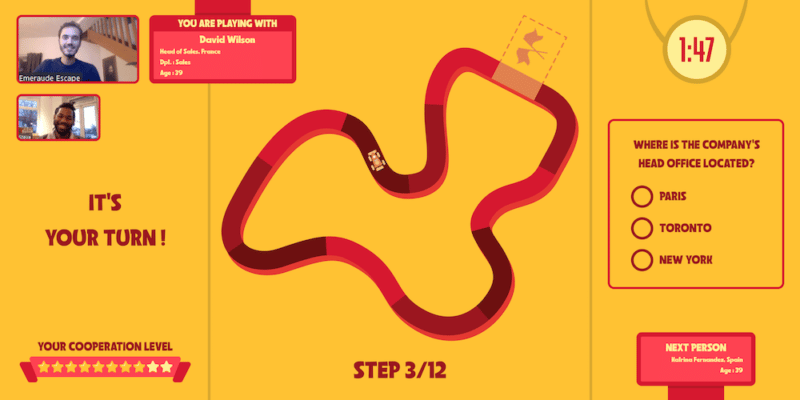 Our digital games are also a perfect fit for the day-to-day team building of your teams. In order to bring together your employees working from home, and separating from the others, to break the usual office routine, to settle a one-off conflict and ease the tensions, to simulate creativity with a brainstorming meeting, to relax after a long week …Our games suit all your needs, all your expectations. They can be used and reused to unite your teams and help them get a sense of fulfilment.
Shorter formats may there be more appropriate:
Quiz races: the perfect opportunity to review the skills of your teams. They will have to get the right answer and challenge each other to get the best score. Behind the fun aspect, one other benefit of this format is that it places you in capacity to adjust your training strategy depending on the obtained results.
Speed gaming: inspired by speed dating, randomly bring together 2 players from your company. They will have a few minutes to immerse in a vast range of stimulating minigames. Breaking the ice, building direct ties between departments, replacing coffee break discussions or cigarette break talks, encouraging cooperation … Speed gaming prompts your talent to get to know each other in a fun and dynamic environment. It's not a competitive format, players play the game together. The goal is to foster the encounter. The stronger the collaboration, the more points the pair will win.
Battle royale / Squid game: according to our study, 70% of employees would be thrilled to play competitive virtual games. Discover our thrilling scenarios which foster challenge and cohesion alongside events of different game levels.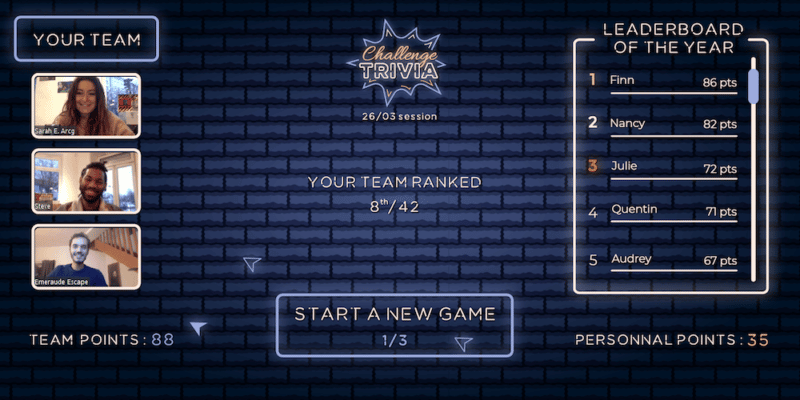 And all you can imagine with our talented creative teams. We have many features and they are personalized.
Customized avatar – Creation and customization of an avatar which will accompany the player all through the game.
automated Game Master – Virtual Assistant which accompanies the player in the adventure and help in case of blocking.
Multiplayer – The possibility to play with several people, alone or as a team to foster collaboration.
Integrated Visio, Audio & Chat – Integration of a tailor-made visio platform to watch and see the other players directly inside the game.
Player Tracking – Possibility to watch the progress of the other players inside the game and in real time.
Leaderboard – Leaderboard at the end of the game to get your individual ranking based on the results achieved.
Point rewards – Mechanism by why the players can exchange their points against other elements (goodies, contribution to an association, etc.)
Personalized Back Office – A tailor-made back-office designed to give access to the KPIs of all participants at any time.
Indeed, for all these digital games, our tracking ensures that you easily collect results and feedback. We assist you and guide and personalize your game in order to retrieve precious KPIs: what are the topics your employees master? What are the subjects on which they would need to be trained? Who are your employees that stand out?
Get inspired by our team building case studies
WAVESTONE – Onboarding and team building seminar 
To learn more about this project, click here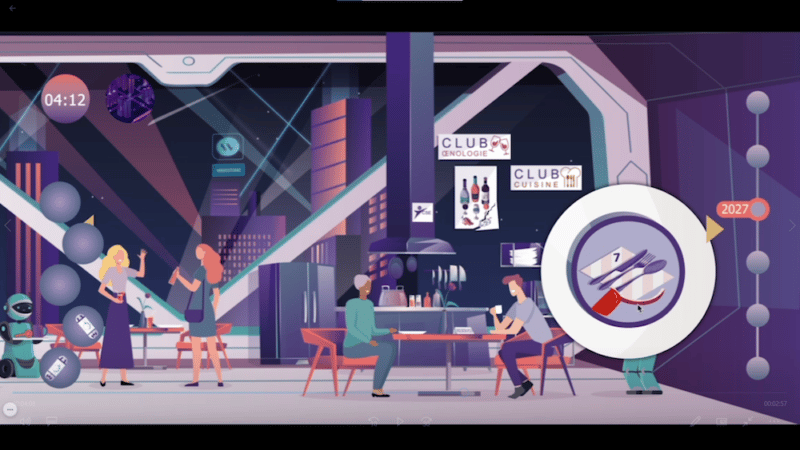 AXPO – Strategic and team building seminar
To learn more about this project, click here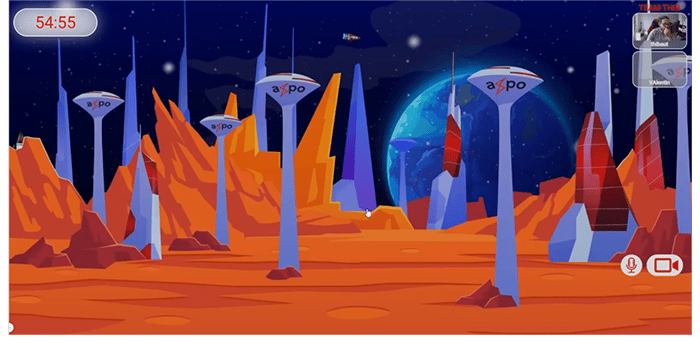 The goals of a successful team building
The study conducted by Emeraude in March 2021 among 1000 employees all over Europe show that 86% employees think their relationship with their teams is a key factor to stay at their company. 70% believe they work better when they have good relationship with their colleagues. A study from Stimulus Observatoire du stress au travail (Observatory of stress at work) points out the most prominent professional stress factors: for 33% of the surveyed employees, the lack of moral support at work is a source of stress; for 29% of them, the feeling of not being useful is also one, for 27% of them a bad work atmosphere is one …
What solutions to provide in order to improve and meet your employees' needs? The team building
Inspired by the world of sport, team building describes the need for a united team to obtain a desired result. No World Cup victory without a competitive and in harmony team. No performance or no growth for an organization without happy and in harmony employees.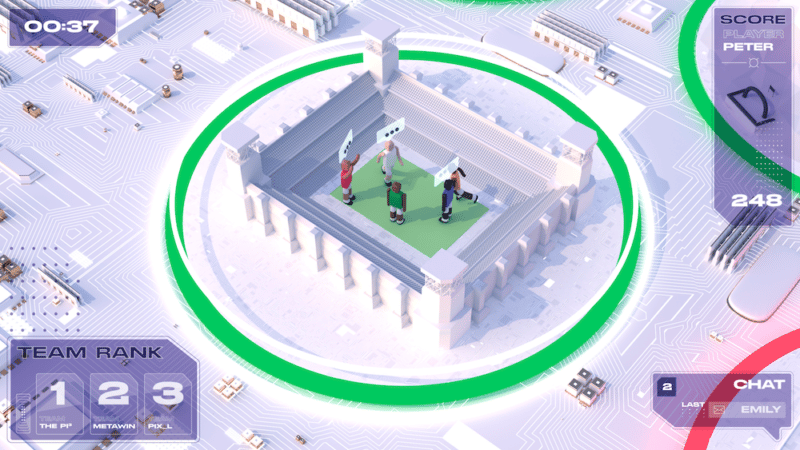 The team building serves various purposes, and it offers a wide range of benefits
It develops cohesion, creates ties between employees and managers: the team building activities are collective activities which gather a lot of opposite profiles. In a large company or in a team working remotely, creating opportunities to catch up and to discover each other is essential. It may also sometimes punctually help to settle some conflict situations.
It improves collaboration and communication and generates team spirit – employees learn to think better together in a different context, to provide each other mutual aid. They gain discussion and communication skills which they may implement easily in their day-to-day professional life.
It ensures a recreational break for employees – offering a moment for sharing, escaping, and fun helps to relax. The friendliness with a team ensures good relationships and an energy re-boost
It simulates creativity – the team building helps breaking the routine and having the teams live different experiences and so developing their creativity. Offering extra-ordinary experiences may reveal some employees' ignored talents ignored and as such fosters innovative spirit.
It challenges teams – the team building activities often take a game format with objectives like scoring or winning. It boosts employee competitivity, it requires them to be proactive. A game located in a fictional world for instance offers the opportunity to simulate situations without risking the mistake and may highlight some people that stands out and make you identify your future team leaders.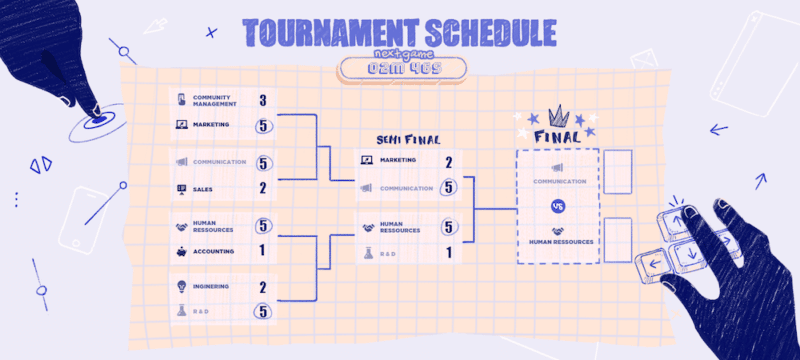 It values and ensures well-being and employee fullfilment. A team building activity is an opportunity for the organization to thank its employees, to offer them a moment to relax. A moment where any one can experiment new things and maybe learn more about himself or herself and the others. Self-understanding and learning how to understand others will help employees to better handle their stress, and consequently to better work as a team.
It helps to share the corporate values – the selection of an activity rather than another can say long about the company which organizes it. A competitive and dynamic game to communicate the performance ambitions of a young company. An activity around ecology or parity to convey the CSR missions of another … A perfect way to engage your employees around your corporate culture and to re-insufflate the sense of belonging on a long term basis.
The benefits for the organization
Fulfilled employees are the happiest ones, they know each other better, they communicate better. Motivated, united and efficient teams correspond to key elements for an organization: less absenteeism, more engagement,  better talent retention and less turnover.
Lacking of inspiration? Contact our teams to discuss about your specific needs and get a demo and discover our team building digital games offer.
Why a gamified & digital team building?
Team building modernization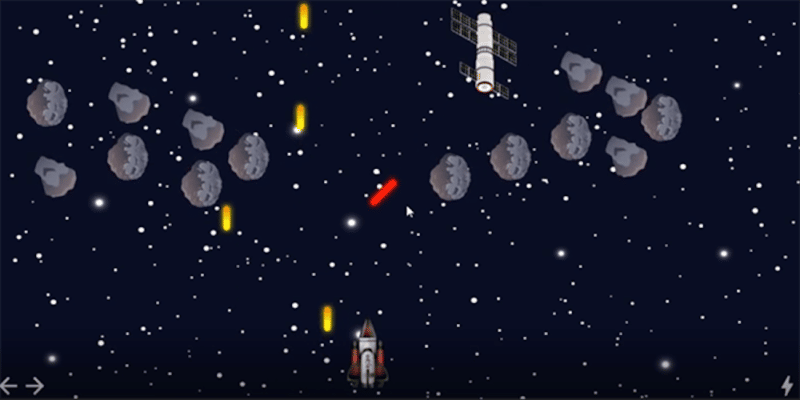 At the digital era, building ties with one's team can no longer happen naturally at work around a coffer, at lunch or during an afterwork. Remote work has entered our professional life to stay (Even if the hybrid format mixing on-site and remote work seems to be the choice of most companies and employees the reality is truly the reflect of teams who are not together every day).
Beyond this notion of remote work some departments are by nature located in different places across worldwide. Sales forces in the field for instance always work in a mobile and often lonely manner.
At distance or remotely, team cohesion should not disappear yet.
Actually, "even if employees seem ready for remote working, it is time to be creative. Companies can enlarge their perspectives and imagine innovative and new tools for their employees to make them stay engaged with their colleagues like immersive virtual experiences which incorporate the notion of challenge and competition" analyzes Virgile Loisance, our CEO.
For these teams, but also for those who still work on site the team building modernizes and digitalizes. And what's better than escaping routine thanks to gamification? 73% of the employees surveyed by Emeraude wish virtual team building events every month and 91% at least every quarter.
Emeraude ensures you to offer fun, unique and engaging team building experiences. A team building may indeed adopt the format of an interactive and virtual quiz or even an in-presence, digital or hybrid escape room to combine collective experience and innovation.
A team building which resembles your organization with Emeraude
At Emeraude, we commit ourselves to offer you tailor-made, innovative and impactful team-building activities
Tailor-made – due to our constant personalization focus, our digital games and hybrid experiences are designed in line with your company's identity, they comply with your charters, your DNA, your originality. We can personalize existing games (escape room, quiz, fun fact…) or put our creativity at your service and develop a totally unique and new experience.
Innovative – our technical teams always look for the latest technological innovations and experiment every day new things. Our experts have never turn down a technical challenge launched by a client, and they adjust to your systems and constraints wherever you are in the world.
Impactful – Emeraude shares your values and will know how to share them to your team. We have created an environmental management charter to reduce our impact on environment (find it here). We are convinced that intelligence and creativity have no culture, no gender, no nationality. Our teams respect parity at 50/50 and they are composed of talents of all ages and origins. We also like puzzles, quizzes, and happy team working. We master the topics you have at heart and we will know how to help you to boost your team building.

Depending on its complexity, it takes from 20 days to 3 months to design a tailor-made digital game for online Team Building.
There is no limit of players because you own 100% of the game. You can use it as many times as you want. Our servers can welcome up to 200,000 players simultaneously.
Creating a tailor-made digital game for online Team Building requires a team of more than 8 people (Game Designers, designers, developers …). The cost is available upon request through our contact form.
Reinforcement of links between employees.

Improves collaboration and capacity to solve problems collectively.

Transmission of facilitated values and corporate culture.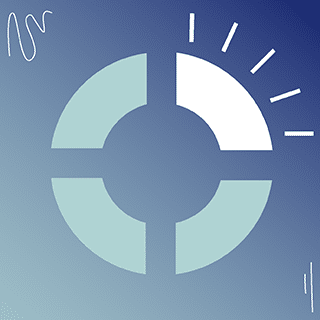 How to play ?
Memorize the order in which the different blocks of the circle are illuminated, then reproduce it in the same order by clicking on it.
Book A Demo
Get a personalized demonstration by one of our game design experts.
Discover our other
Solutions