Speed Gaming
Directly inspired from speed dating, this format allows 2 players, chosen at random, to collaborate together in solving challenges.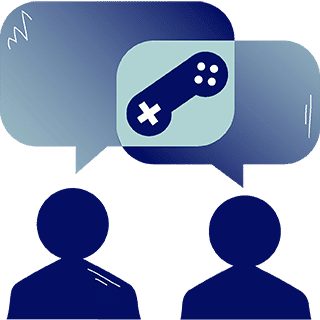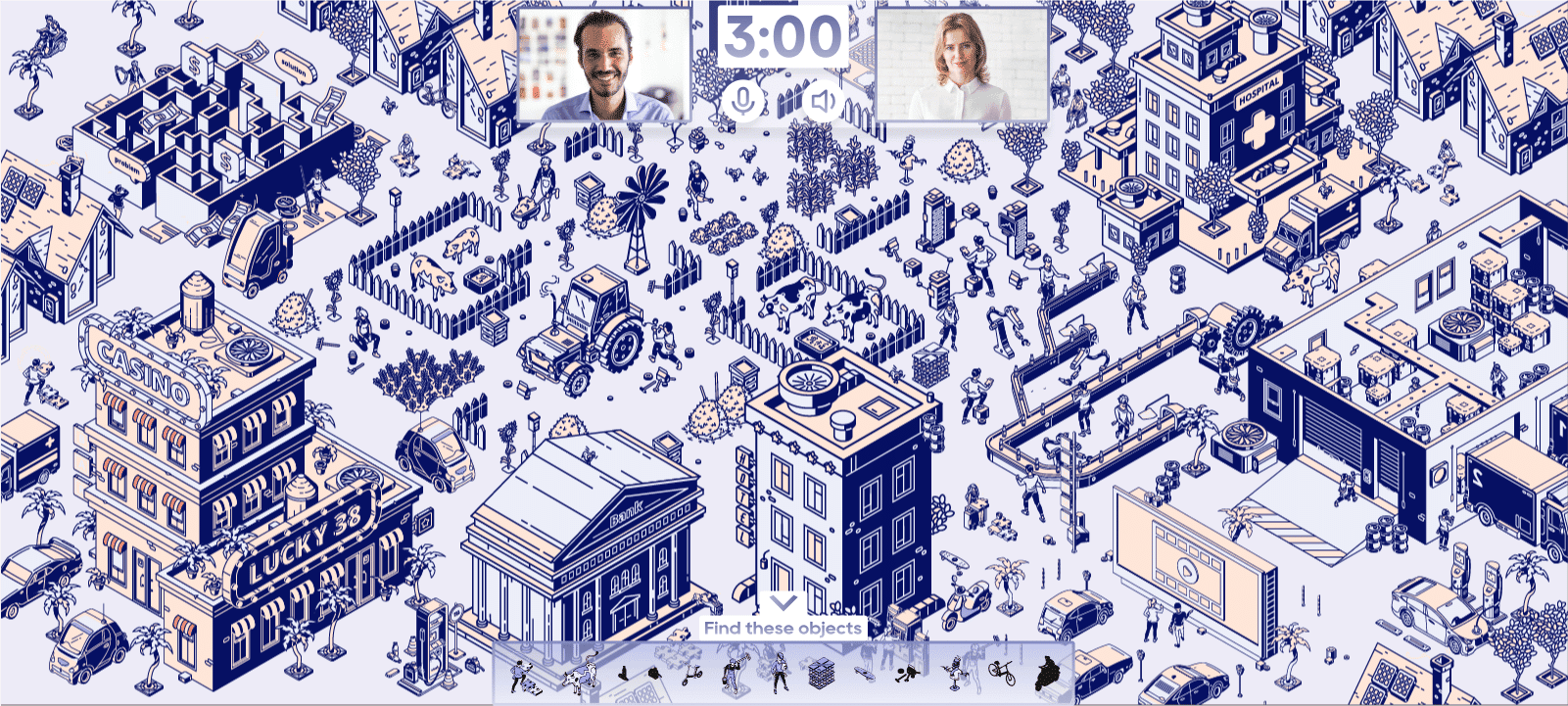 Get the need for speed! 83% of employees who play games during training are more motivated. Speed Gaming is an exhilarating new type of virtual team-building activity. Our team will develop a fun way for your employees to learn more about each other and hone their skills in a low-stakes environment.
Want more information about the benefits of speed gaming? Here is your quick guide to Speed Gaming.
The Greatest Team Building Activity
Players spin a wheel and immerse themselves in challenging games they must play in less than three minutes. They have just enough time to solve puzzles and perform short activities, but they can't hesitate, and they must communicate with their partner to win.
Players work in pairs, and they can communicate with each other through our software. The goal of the activity is not for teams to compete against each other or other teams. Instead, each pair must work together to score points, improving their communication and teamwork skills.
At the end of a game, the pair discovers how they did, and then the game reassigns each player to a new partner. The players have dozens of opportunities to meet people within the company and learn more about other departments and units.
Pick Your Perfect Speed Gaming
We offer a few different activities your employees can play. You can cycle through multiple games or prioritize one during a Speed Gaming session.
It's a Match!
It's a Match! tests your players' memory and concentration abilities. A group of cards appears on their screens face down. Players must click on cards to flip them over and match pairs of identical cards. Once they've completed one set of cards, they move on to the next level with more cards they need to uncover.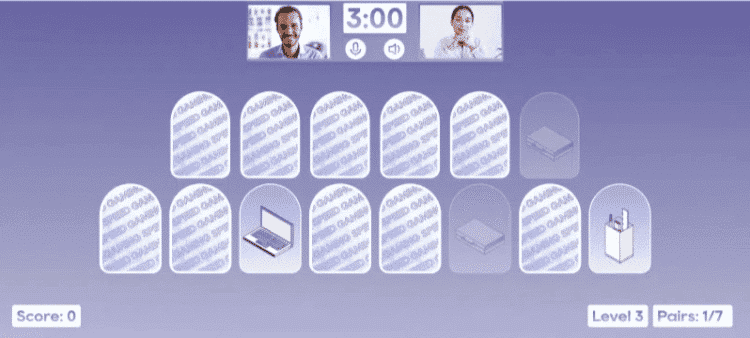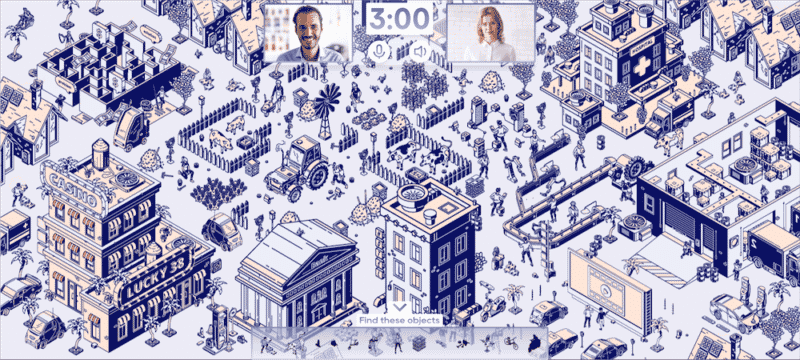 Eye Spy
Eye Spy tests players' ability to notice small details and remember company visuals. A large image appears on the players' screens containing numerous features. The team must find objects with your company logo on them or people performing activities that your company does. The team must decide how to break the image down and look for the objects they need to find.
Lock Heart
Lock Heart tests your players' teamwork and communication skills. A player's cursor acts as a flashlight, illuminating safes with codes that let them open all the safes. However, each code is incomplete. Players must remember what the incomplete codes are and work together to assemble the main code.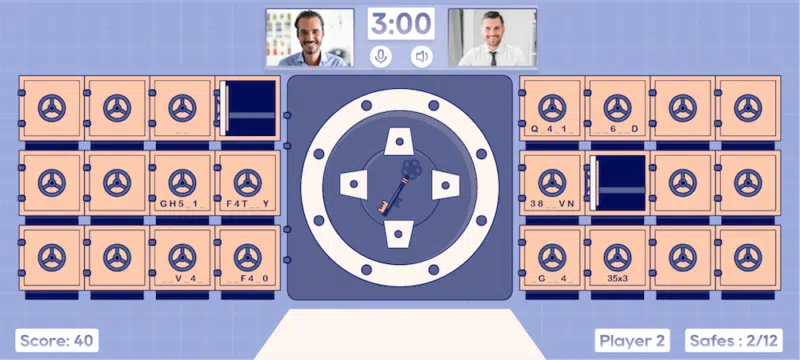 What to Expect During Speed Gaming
Cameras On
Players must have their cameras and microphones on in order to play the games correctly. They also need a good internet connection if they are playing games from home.
Stress-Free Planning
Our team will set up the software for you. Our tools are easy to use; you can schedule when your games begin and end and what games you want during each session.
Customization
You can customize your games however you want. We can place your company logo and visuals inside It's a Match! and Eye Spy, helping develop your brand awareness.
How Speed Gaming Works
We work hand-in-hand with you to develop Speed Gaming. You can schedule a meeting with us whenever you want and tell us what your goals for the game are. We will tell you what the format of Speed Gaming is and what games we think would work best. We can let you demo games and speak to clients we've worked with in the past.
Once we have set up the software, you can run your game however you want. You can reuse the software and update it with new visuals and features.
Want to learn more about how we develop games? Schedule an appointment with an Emeraude Escape professional today!
Benefits
Team Member Compatability
Each player has opportunities to work in teams with many people in your company. They can see for themselves how they work with others and whether certain people work better with them than other people. If they find that they struggle to be compatible with others, they can take training to improve their skills.
They can also see how other departments work. A marketing professional can make connections with a financial professional, which can help them craft cheaper and more effective marketing campaigns.
Team Member Collaboration
Every game requires your employees to collaborate. Players must communicate clearly and quickly without talking over each other. They must divide tasks and trust their teammates to perform activities on their behalf.
Quick Ice Breakers
Each game lasts three minutes, so you can get through 20 games in an hour and move on to other activities. Players must communicate and work together during the entire game with no chance to rest or become distracted. Other icebreakers take far longer and are less effective because people choose not to participate.
Fun
We design Speed Gaming to be genuinely fun and invigorating. Players won't notice that they are honing their skills and learning more about each other because they're focused on solving puzzles and scoring points. The games create friendly competition and memories that will last longer than any other activity they do.
Learning and Development
Speed Gaming works for employees at any point in learning and development. Both new employees and veterans can hone their skills, connect with other departments, and learn about company guidelines. You can use your games during the onboarding process and continuing education.
Related: Gamification in Onboarding
We need 20 days to three months to design your Speed Gaming. You can always contact us with any questions or suggestions you have about your game.
You can request a budget through our contact form. We work to make our games as affordable as possible; if you have a ceiling for how much money you can spend, we will respect it.
We design our games so 200,000 people can play at the same time. There is no minimum for how many employees can participate.
Once we've designed Speed Gaming, the game belongs to you. You can use the games as many times as you want and for as long as you want at no additional cost.
Do you have questions or need suggestions for our games? Use our guided search to narrow our services down!
Industries That Use Speed Gaming
Any industry can benefit from Speed Gaming, but here are a few of the industries we recommend Speed Gaming for.
Technology
Technology companies can benefit significantly from Speed Gaming. Many companies have high numbers of employees, and it can be hard for a low-ranking employee to meet everyone. Speed Gaming creates perfect opportunities for networking and icebreaking. It also trains low-ranking employees to use company technology and identify products.
Related: How Gamification Can Improve Training
Retailers
Retailers and franchises can use Speed Gaming as part of their training. New employees can work with other new employees and veterans to play their games. They learn how to work together in teams and communicate adequately, and they know who to talk to if they have problems.
Case Studies
Emeraude Escape has worked with dozens of companies to develop Speed Gaming and other gamified tools. We've worked with Nescafe, Nestle, Toyota, and others, helping them with training, brand development, and teamwork.
Useful Information
Duration

Between 45 and 60 minutes.

Frequency

Weekly or monthly game.

Number of players

From 4 participants per team.

More

Available in a 3 player version.
Book A Demo
Get a personalized demonstration by one of our game design experts.