What is the future of the Metaverse in Corporate?

A world reimagined through the virtual lens has become an increasingly enticing reality of our time. The virtual reality market is growing exponentially fast and clocked in at a hefty $4.8 billion in 2021 and is only going up from there with the virtual reality market projected to reach $12 billion by 2024 according to Statista. This growth expectation is no surprise considering the success of immersive gaming with the top three 'Metaverse' tokens currently being game related based on market capitalization, expansion of digitized processes due to the impacts of a global pandemic, and of course Mark Zuckerberg's announcement of Meta.
The Metaverse in Corporate Environments through Gamification
Encompassing a new way to work, play, and connect, the Metaverse, a network of 3D virtual worlds focused on social connection, holds a world of potential to penetrate just about every aspect of work and life that we know. Corporate gamification in the Metaverse is on track to redefine the working environment no matter the sector. While opinions on technology are steadily changing, optimism for gamification in the Metaverse in corporate and work spaces is high. We can already anticipate virtual reality being integrated into the workplace through things like immersive training methods, meetings and conferences, and gamified corporate interactions. Creating an experience parallel to that of reality adds a much needed element of excitement and engagement to corporate spaces. Each participant of the Metaverse can be part of the game in a virtual world. Realism realized through personalized avatars, intricate 3D scenery, and cutting edge technology allows everyone to project themselves into the Metaverse without limits and transform the way they work alone and collaboratively.
Corporations and entrepreneurs alike recognize that gamifying corporate processes and entering the Metaverse will be a gamechanger and are jumping in with massive investments and plans hoping to secure their slice of the pie.
Walmart has begun filing new trademarks hinting at the possibility of selling and making virtual goods as well as offering a virtual currency and non-fungible tokens (NFTs).
Powerhouse corporate escape game company Emeraude Escape has already begun developing escape games for the Metaverse environment.
Microsoft is working on virtual offices and working environments in the metaverse and announced the platform will enable virtual collaboration by turning co-workers into holograms viewable through augmented reality glasses. These holographic avatars will be able to interact with virtual things that appear in each user's physical environment, creating a mixed reality experience for users.
Related to Serious Games in the Metaverse
At Emeraude Escape, our Escape Game format made for the Metaverse defies the notions of time and space as it takes place in a parallel world allowing anyone to feel completely immersed. The immersion through this gamified experience is intense. With a team of top developers and designers we are gamifying all of the key processes in interactions that take place in the corporate world within the Metaverse so the experience can be accessed in a variety of ways. Whether engaging puzzles, games, or challenges , the Metaverse can incorporate different activities that bring employees and teams closer together and connect them to their employer. The opportunity to bring our gamified experiences to life in the most immersive way through distinct corporate values and culture is a goal we always strive to reach and the Metaverse is bringing us a step closer.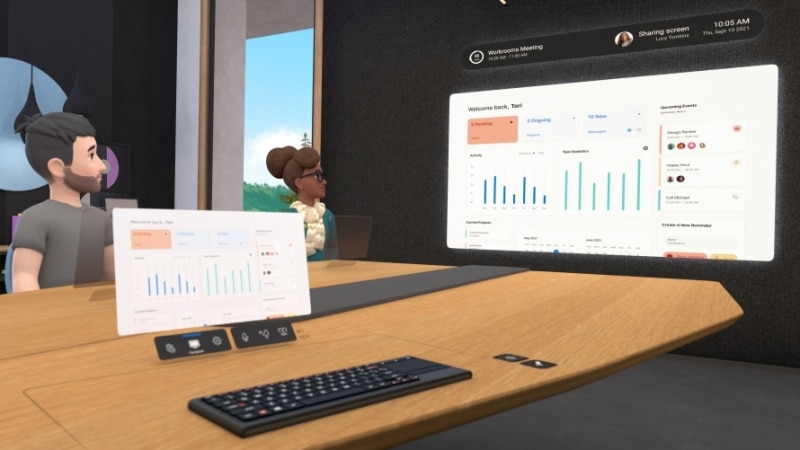 Photo by Meta
How long does it take to create a game in the Metaverse for Business?
Emeraude Escape creates immersive and interactive games for Corporations of all sizes and within any sector made for the Metaverse in two months or less.
Related to Create your custom Metaverse world for you company
How do you create a game in the Metaverse for Business?
The conception of a metaverse game is done hand in hand between Emeraude Escape's Game designers and company's teams by using their objectives, issues, guidelines, and/or concepts that they want players to take away from their experience.
Related to Technologies used in the Metaverse for Business
Why are companies using the Metaverse for business?
Companies consult Emeraude Escape to cultivate more dynamic and interesting ways to tackle  corporate topics because research shows learning is most successful when it is fun.
Related to Marketing in the Metaverse for Brands and Businesses
Will the Metaverse for Business see increased opportunities?
Following a shift in the relationship between corporate culture and digital/virtual processes, a growing appreciation for the "work from home" model, and "Zoom Fatigue" which is said to be the cause of increased burnout, stress and fatigue becoming more prevalent, the Metaverse could be a mecca for corporate environments. A 2020 study by global recruitment company Robert Half found that 89% of businesses expect hybrid working to be a permanent change following the pandemic and as a result of this transition companies are investing in virtual technologies. If big companies can follow through on their big ambitions for advancements in the metaverse space, access to resources, interactivity, inspiration, and engagement within the workspace are set to see a big increase. Upon the process improvements, the workplace environment could also see great improvements with the dismantling of physical boundaries,  health and safety concerns, accessibility disparities, and overuse of resources.
Related to The Future of the Metaverse for Education
All in all, we can already begin to experience and look forward to what the Metaverse has to offer for the gamification of Corporate processes and anticipate an exciting future for the Metaverse in Corporate spaces.
Book A Demo
Get a personalized demonstration by one of our game design experts.