Speed Gaming
Directly inspired from speed dating, this format allows 2 players, chosen at random, to collaborate together in solving challenges.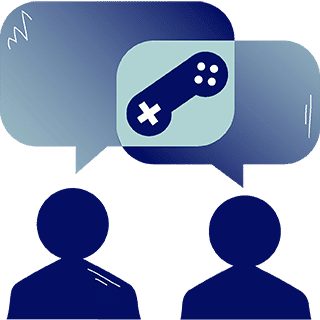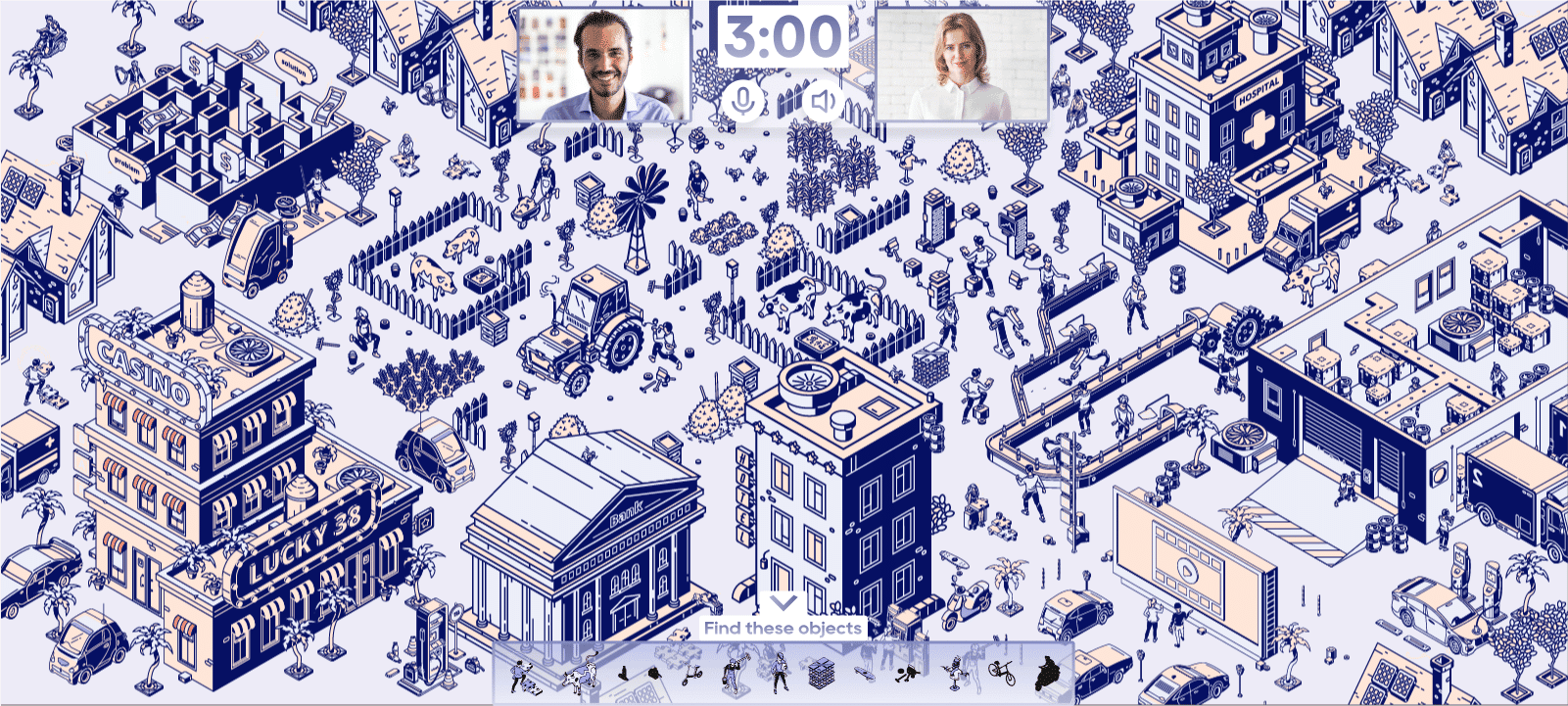 Introducing the ultimate collaborative and communicative game format: boost your team's dynamics with our exhilarating new type of virtual activity in an engaging way! Your employees will learn more about each other and improve their collaborative and communicative skills.
Speed Gaming seamlessly blends strategic challenges, problem-solving scenarios, and real-time interaction in several 3-minute games at each round, ensuring your team is engaged, motivated and aligned towards a common goal. With intuitive interfaces, customizable features and a rich variety of game modes, Speed Gaming empowers your team to learn, bond, excel together like never before.
Want more information about the benefits of speed gaming? Here is your quick guide to Speed Gaming!
The Greatest Team Building Activity
Players spin a wheel and immerse themselves in challenging games they must play in less than three minutes. They have just enough time to solve puzzles and perform short activities, but they can't hesitate, and they must communicate with their partner to win.
Players work in pairs, and they can communicate with each other through our game. The goal of the activity is not for teams to compete against each other or other teams. Instead, each pair must work together to score points, improving their communication and teamwork skills.
At the end of a game, the pair discovers how they did, and then the game reassigns each player to a new partner. The players have dozens of opportunities to meet people within the company and learn more about other departments and units.
Pick Your Perfect Speed Gaming
We offer a few different activities your employees can play. Here are some examples of Speed Gaming.
It's a Match!
It's a Match! tests your players' memory and concentration abilities. A group of cards appears on their screens face down. Players must click on cards to flip them over and match pairs of identical cards. Once they've completed one set of cards, they move on to the next level with more cards they need to uncover.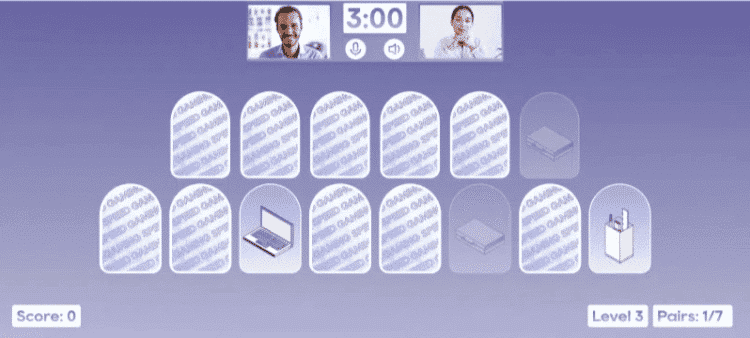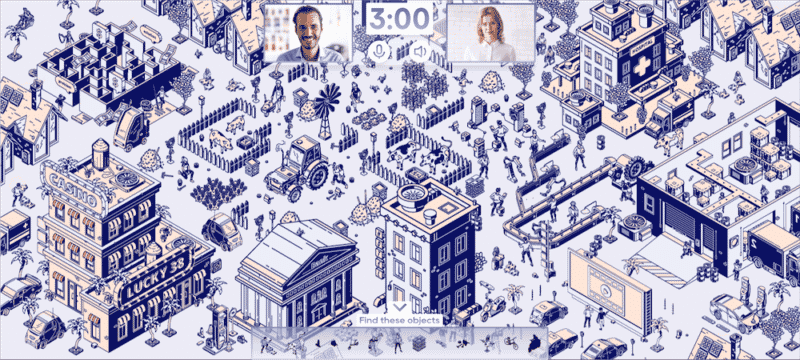 Eye Spy
Eye Spy tests players' ability to notice small details and remember key visuals. A large image appears on the players' screens containing numerous features. The team must find objects dedicated your company and activities related to your business nature. They key is to decide how to break the image down and look for the objects to find.
Lock Heart
Lock Heart tests your players' teamwork and communication skills. A player's cursor acts as a flashlight, illuminating safes with codes that let them open all the safes. However, each code is incomplete. Players must remember what the incomplete codes are and work together to assemble the main code.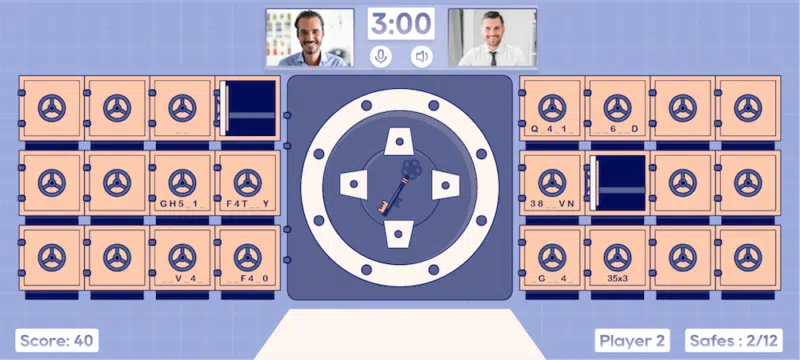 What to Expect During Speed Gaming?
1. You will be paired with a random colleague picked up by the system
2. Launch in-game audio and video, introduce yourself and start collaborating
3. Spin the wheel to start a live random game
4. Get the highest possible score in a random 3-minute game
5. Collect points given by your teammate based on your collaborative skills
6. Start again! You'll be assigned a new challenge with new colleague
7. Repeat again and again until you have met all your teammates
How Speed Gaming Works
We created speed gaming with the following features that can be fully customized to increase the key performances of your trainings.
In-game video and audio system
Leaderboard with ranking
Badges to evaluate your teammate
Rewards
Scoring system
LinkedIn or Teams connecting feature
User profile with social interaction features
and lastly, Speed Gaming is compatible on any devices to be playable at anytime from anywhere.
We will work hand-in-hand with you to develop Speed Gaming. You can schedule a meeting with us whenever you want and tell us what your goals are for the game. We will tell you what type of Speed Gaming fits your training modules best.
Want to learn more about how we develop games? Schedule an appointment with an Emeraude Escape professional today!
Benefits
Improved Reflexes: Speed Gaming often requires quick thinking and rapid responses, helping to enhance reflexes and reaction times.
Enhanced Cognitive Skills: This game stimulates the brain, improving cognitive abilities such as memory, attention, and problem-solving.
Enhanced Communication Skills:  It fosters effective and concise communication. Players learn to convey messages efficiently and accurately, improving their overall communication skills.
Teamwork and Collaboration: The focus of Speed Gaming is team-based, promoting collaboration and teamwork. Players learn to coordinate and communicate effectively within a time-constrained environment.
Reduced Response Time: Regularly engaging during the game can help reduce response time, making individuals quicker and more efficient in action taking process.
Stress Relief: It can be fun and exciting, offering a break from daily routines and helping to reduce stress. The fast-paced nature of Speed Gaming can provide an enjoyable and energizing experience.
Improved Multitasking Abilities: Speed Gaming often requires players to process information quickly and perform multiple tasks simultaneously. This can enhance multitasking skills and the ability to manage several activities simultaneously.
Increased Confidence: Successfully participating in these games can boost confidence levels, as your employees become more comfortable expressing themselves quickly and effectively.
Entertainment and Social Interaction: Speed Gaming is entertaining and it provides an opportunity for social interaction. They can be enjoyed amongst colleagues from any part of the world creating a lively and engaging atmosphere.
We need 20 days to three months to design your Speed Gaming. You can always contact us with any questions or suggestions you have about your game.
You can request a budget through our contact form. We work to make our games as affordable as possible; if you have a ceiling for how much money you can spend, we will respect it.
We design our games so 200,000 people can play at the same time. There is no minimum for how many employees can participate.
Once we've designed Speed Gaming, the game belongs to you. You can use the games as many times as you want and for as long as you want at no additional cost.
Do you have questions or need suggestions for our games? Use our guided search to narrow our services down!
Book A Demo
Get a personalized demonstration by one of our game design experts.